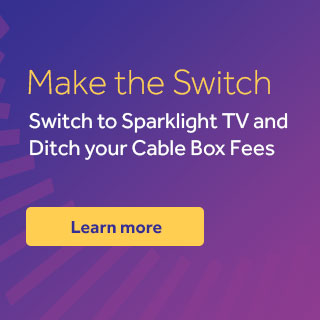 Follow these directions and you should be able to install your SD or HD receiver — quickly and easily — in about 30 minutes.
How to connect your digital receiver to your TV:
At the back of the TV, disconnect the cable that runs from the wall outlet (cable should remain connected at the wall).
Connect that cable to the digital receiver where it says CABLE IN.
Connect the cable that came with your receiver to the matching output of the receiver.
Connect the other end of that cable to the matching input on the back of the TV.
Wait 20 minutes for the digital receiver to configure itself and load the program schedule. Newly installed equipment could take up to 45 minutes to complete this process.
Turn on the TV and set the TV to channel 3 or 4 or to the correct input (HDMI, Component, Video 1, etc.).
Enjoy channel surfing.
Customers with a CableCARD TV can get an authorized SD or HD CableCARD from Sparklight to receive digital channels and premium channels.