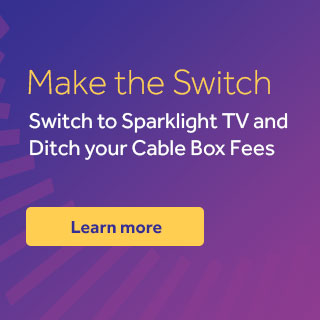 My digital receiver is on but I am not seeing a picture. Can I fix this myself?
If your Sparklight digital receiver is on and you are not seeing a picture or hearing audio, please follow the steps listed below.
Step 1: Verify what type of connection your cable signal is being transmitted through and verify your TV is set to the appropriate mode according to the connection (see table below). You can switch between TV modes by using the button marked on your TV remote as TV/Video, Source, Input or Mode. For additional assistance how to change TV modes, please contact your TV manufacturer. Below is a link with contact information to some of the most common TV manufacturers.
| | |
| --- | --- |
| Common Connection Types | Correct Input |
| Coaxial Cable | Channel Mode |
| RCA Composite Cable (Red, White, & Yellow) | Video Mode |
| HDMI | HDMI Mode |
| S-Video | S-Video Mode |
| Component Cable (Red, Green, & Blue) | Component Mode |
Step 2: Verify the connections are secure by removing each end of the connection and then reconnecting it tightly. This should be done on every connection between the outlet and the Television. Verify there is an audio/video connection connecting each piece of equipment. If your audio is plugged into Video 2 and your video is plugged into Video 1, you will not see the complete signal with audio and video on either TV mode.
Step 3: Unplug the power to the Sparklight digital receiver for 30 seconds and then plug it back in.
Step 4: Please wait 5-15 minutes for the Sparklight digital receiver to be operational.