Once you log in to your Sparklight Online Account, click the down arrow next to your name on the top right. Then click on 'Profile Settings.'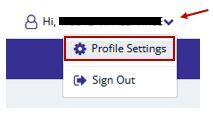 Scroll down to the 'Text Message Notifications' section and click the pencil/edit icon.

You can change the Mobile Phone on file by adding the new number you'd like to use and clicking 'Save.' During this process, you can opt in or out of the available text alerts.