One of the many benefits we offer our customers is the ability to view their bill online. To do this, log into your online Sparklight account HERE .
Once you have logged into your account, you will be able to view your full bill. Click the 'Billing' menu option on the top navigation bar.

In the 'Billing History' section you will see 'Bill Date' and 'Download.' Click the download icon next to the date of the statement you'd like to view. You can click on 'View All Statements' to view older statements.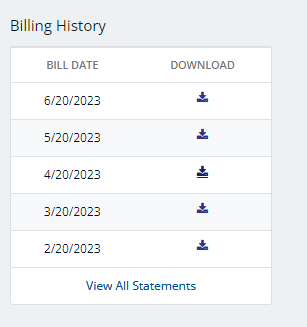 I am a new customer...
If you are a new customer and do not have an account registered yet, you will need to register your account. Simply click HERE and enter your billing account number and billing zip code. Then click ''Register''. Once you have registered your account, please follow the above instructions on how to locate your billing statement.